Luxor Temple and the River Nile - Aerial / Elevated View (from the air) [Luxor, Egypt, Arab States, Africa] .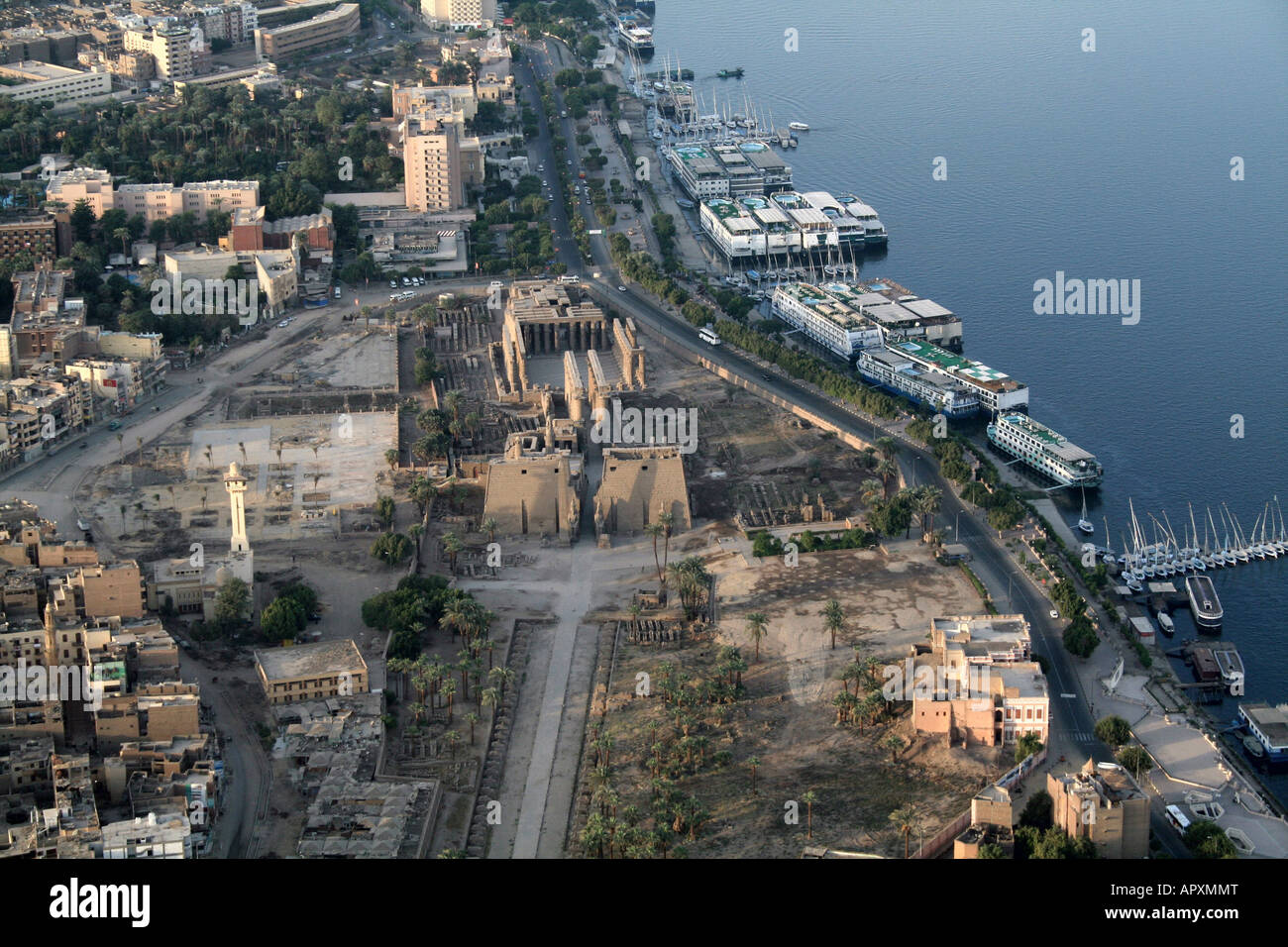 Image details
File size:
49.1 MB (2.6 MB Compressed download)
Dimensions:
5071 x 3381 px | 42.9 x 28.6 cm | 16.9 x 11.3 inches | 300dpi
Location:
Luxor, Egypt, Arab States, Africa .
More information:
Luxor Temple is a large and significant Ancient Egyptian temple complex located on the east bank of the River Nile in the city today known as Luxor (ancient city of Thebes). Known in the Egyptian language as ipet resyt, or "the southern harem", the temple was dedicated to the Theban Triad of Amun, Mut, and Chons and was built during the New Kingdom, the focus of the annual Opet Festival, in which a cult statue of Amun was paraded down the Nile from nearby Karnak Temple (ipet-isut) to stay there for a while, with his consort Mut, in a celebration of fertility - whence its name. Access to the temple was - and still is, for the thousands of tourists who flock there every day - from the north, where a causeway lined by sphinxes once led all the way to Ipet Sut in modern Al-Karnak. This road was a later addition, dating from the time of Nectanebo I in the 30th Dynasty. The temple properly begins with the 24 metre (79 ft) high First Pylon, built by Ramesses II. The pylon was decorated with scenes of Ramesses's military triumphs (particularly the Battle of Kadesh); later pharaohs, particularly those of the Nubian 25th dynasty, also recorded their victories there. This main entrance to the temple complex was originally flanked by six colossal statues of Ramesses – four seated, and two standing – but only two (both seated) have survived. Modern visitors can also see a 25 metre (82 ft) tall pink granite obelisk: it is one of a matching pair. The other was taken to Paris in 1835 where it now stands in the centre of the Place de la Concorde. The pylon gateway leads into a peristyle courtyard, also built by Ramesses II. This area, and the pylon, were built at an oblique angle to the rest of the temple, presumably to accommodate the three pre-existing barque shrines located in the northwest corner. The Nile is a major north-flowing river in Africa, generally regarded as the longest river in the world. This photograph is part of the Imagine Collection, hosted by Alamy.