Grey seal courtship behaviour, North Sea coast, Norfolk, England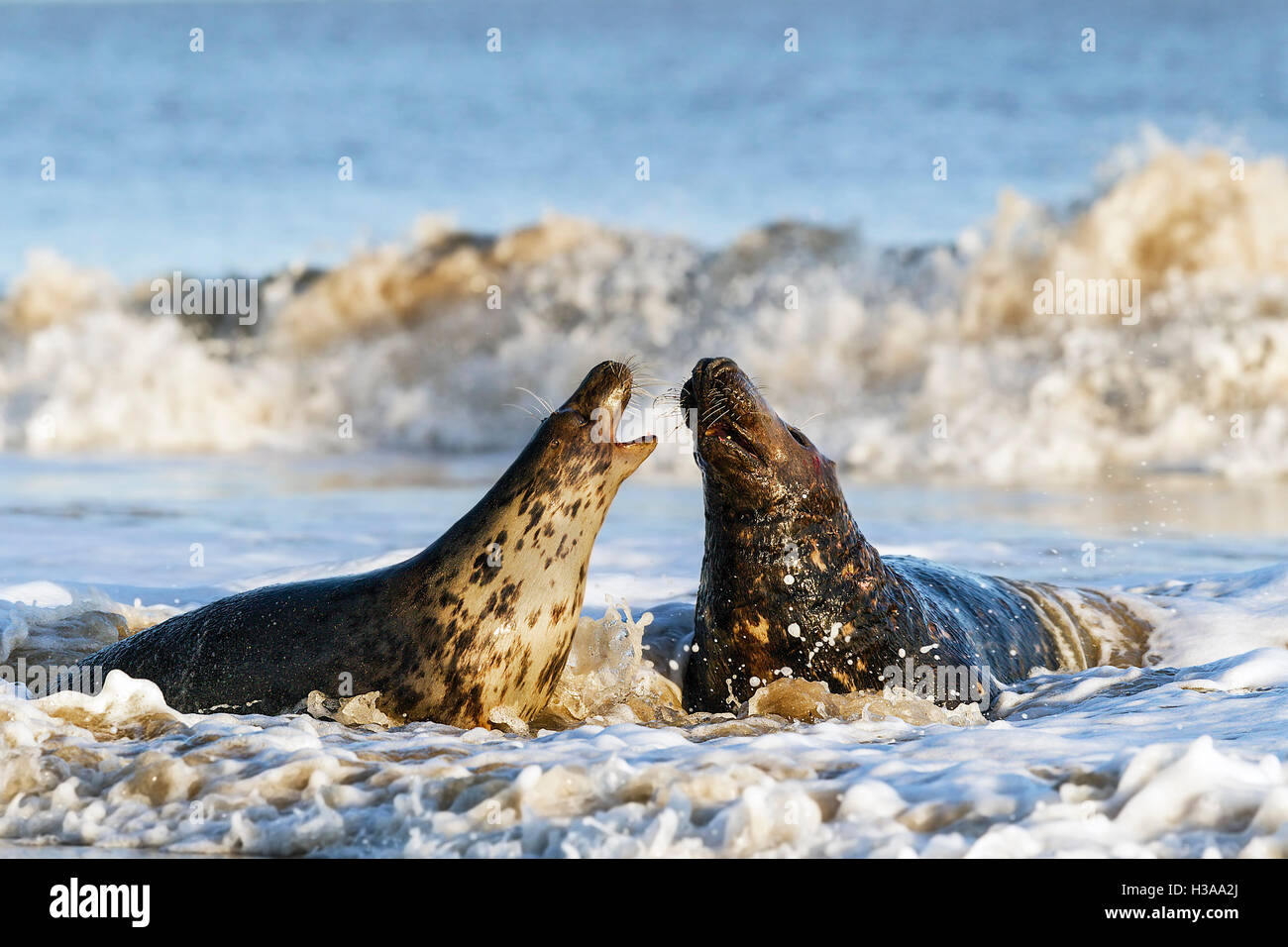 Image details
File size:
45.7 MB (1.7 MB Compressed download)
Dimensions:
4896 x 3264 px | 41.5 x 27.6 cm | 16.3 x 10.9 inches | 300dpi
Date taken:
10 January 2014
Location:
Norfolk, England, United Kingdom
More information:
Approximately half of the world's population of 300, 000 grey seals are found around Britain's coastline. Grey seals forage in the open sea and return regularly to 'haul out' on land where they rest, moult and breed. Grey seals begin arriving on the Norfolk coast every November, giving birth over two or three months before leaving in late January or February. Norfolk's grey seal survival instincts were put to the test during the night of 5 December 2013, when a tidal surge of historic magnitude, engulfed coastal villages. Thousands of people had to evacuate their homes as the severe storm battered large parts of the UK. The future of the Norfolk seal population seemed to hang in the balance when on the day after the storm newspapers reported that a large percentage of them were lost on the Norfolk coast after the natural disaster. The National Trust issued a statement confirming 263 seals had been lost from Horsey beach. With eyewitness accounts of dead seal pups on the beach, the fate of the missing seals seemed bleak. Fears of a much larger devastation of the Norfolk grey seal population were finally allayed three days after the storm, when it was confirmed that the hundreds of seal pups which had been presumed dead had been found alive and well. Apparently the majority of seals and pups were able to reach higher ground on the sand dunes. I went to find out how the grey seal population on the Norfolk coast was recovering after the storm. It was business as usual for the local tourist attraction with dog walkers, joggers, and other outdoor enthusiasts flocking to the coast. Seal pups that would have been born after the surge as they were still covered in their white natal fur, looked healthy and were being suckled by their mothers. The pups being fattened up and protected by their mothers were also accompanied by large male seals. These bulls come ashore to mate during the breeding season and vie for a position with females. The cycle of life continues.