Greek Vlachs dancing during the Vlach wedding ritual at Thebes city, Boeotia, Greece.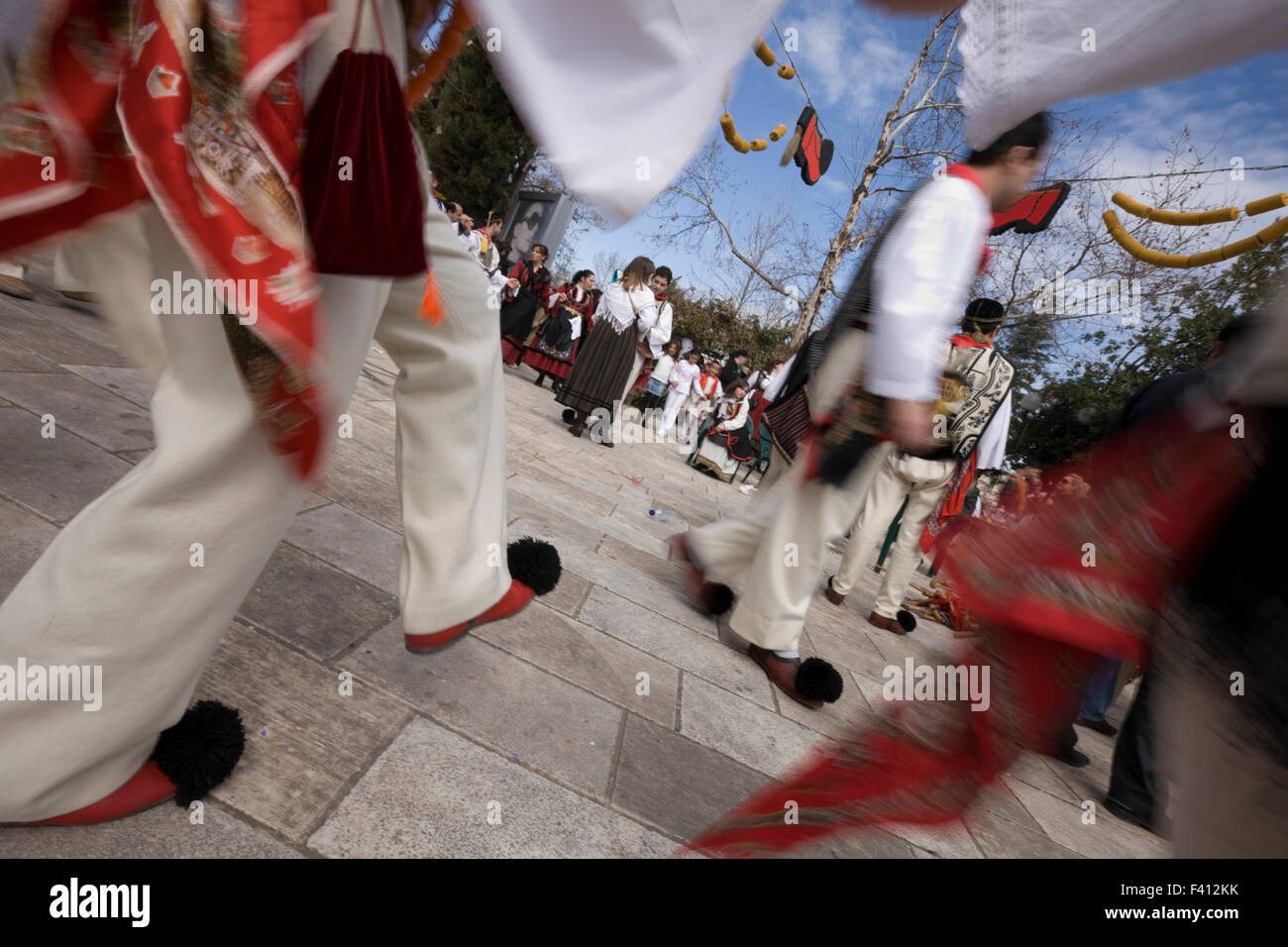 Image details
File size:
41.8 MB (1.3 MB Compressed download)
Dimensions:
4680 x 3120 px | 39.6 x 26.4 cm | 15.6 x 10.4 inches | 300dpi
Location:
Thebes city, Boeotia (Euboea / Beotia/ voiotia), central Greece.
More information:
In 1830, after liberation of Greece, Vlachs transfered their rituals to Thebes (birthplace of Bacchus, similar to Dionysian symposiums & worships taking place at that time) in an attempt to move from a infertile soil to a fresh pasture for their livestock. The cult combined with Christianity, in The Vlach Wedding revival, a bucolic wedding ritual parody, with a disguised bride, impersonated by a man, called the 'Vlach' thus making a mockery of the wedding custom itself. The presence of the (female) bride in this cult custom, in antiquity, was considered for shame because of the phallic songs, chaffings & other rude guestures for the bride taking place during rituals. On shrove Sunday, vlach groups gather under the commands of their Captains followed by a servant ('Panousis') having hung sheep bells on his clothes. They dance & wave a banderole with an orange on top of its rod, referring to Bacchus thyrsus wands. Groups also have shams, vlachs dressed in a fad way with a peculiar uniform, sheep skin fur over their body, garlics on their hats etc deriving from Bacchic satyrical mysteries. On Ash Monday morning, groups meet at the city's square singing phallic songs & dance. Next, they head to Holy Trinity's chapel & celebrate Lent's "Coolouma" feast eating lagana bread and lent food. After celebration they move back to central market, to the co-fathers-in-law shacks to bargain bride's dawry. Satyrical dialogues and rude guestures dominate the padody. One side reveals publicly a problem of the bride (i.e. health problem) asking for more dawry, oblidging the bride's father to retreat to achive her mariage. The bargain ends & they make wishes for the newlyweds. Vlachs on curricles throw bonbonnieres to the public & guests of the wedding, containing fresh roasted chick peas and raisins. The jollification continues at Saint Ioannis square with the Bacchic 'dance of the dead', symbolizing of nature's ressurection & victory of life.