RAF Tornado G4 landing at Farnborough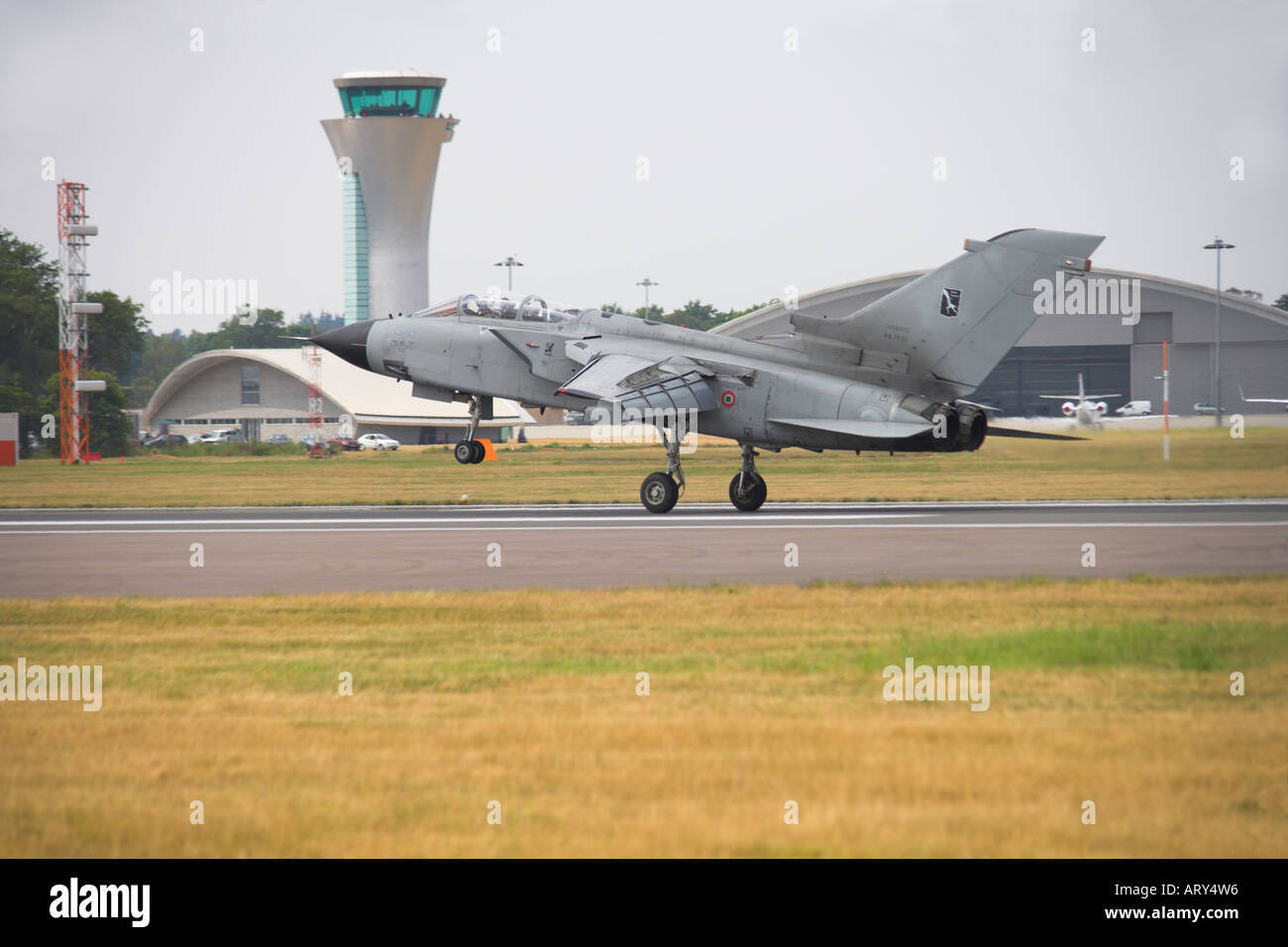 Image details
File size:
47.9 MB (1,009.1 KB Compressed download)
Dimensions:
5010 x 3340 px | 42.4 x 28.3 cm | 16.7 x 11.1 inches | 300dpi
Location:
Farnborough Airfield Hampshire England Great Britain United Kingdom GB UK
More information:
Tornado G4 in inclined position with wheels on ground and nose in the air while landing at the Farnborough Airshow 2006 . Just passing the control tower in the background . Flaps spoilers and leading edge slats deployed viewed from port side . Registration number MM 7035 . The RAF Tornado GR4 is the most recent Tornado class and it is a cutting edge attack aircraft . It is designed for supersonic flight and is able to fly at very low level . With its sophisticated swing wing design it can operate from short unprepared runways by landing and taking off at slow speeds with its wings in the forward position . Its swept back position gives it high speed capability while an intermediate position can be used for tactical manoeuvres . The latest version GR4A has a small camera window each side below the cockpit for a sideways looking Infra Red system and a Linescan infra red surveillance system and can have RAPTOR Reconnaissance Airborne Pod TORnado radar system fitted . Powerplant Engines 2 x Turbo Union RB199 dash 34R Mk 103 Turbofans with 9100 pounds thrust lb and 8650 pounds thrust for RAF dry and 16075 pounds thrust lb with afterburner . Length is 54 feet 10 inches or 16 point 7 metres . Wingspan is 45 feet 7 inches or 13 point 9 metres at 17 degrees sweep and 28 feet 2 inches or 8 point 6 metres at 68 degrees sweep . Maximum takeoff 61620 Pounds lb or 27950 kilogrammes kg . Top Speed 1452 miles per hour or 2336 kilometres per hour Mach 2 point 2 at 36000 feet or 11000 metres and 710 miles per hour or 1140 kilometres per hour at sea level . Crew are Pilot and Weapons Systems Operator .