. Letters and recollections of John Murray Forbes . The one was an engineer with the clearest possiblehead and an unending power of work, the other akeen, clever, energetic Western lawyer; and bothlabored as hard as even he wished, — or harder,which is saying a good deal. With such forces in its management, and thegreat prairies only waiting to be opened, to givefood and work to millions, the Chicago, Burlingtonand Quincy Company grew from a feeder of theMichigan Central of one hundred and fifty milesinto the great organization of to-day, having overseven thousand miles of railroad to operate,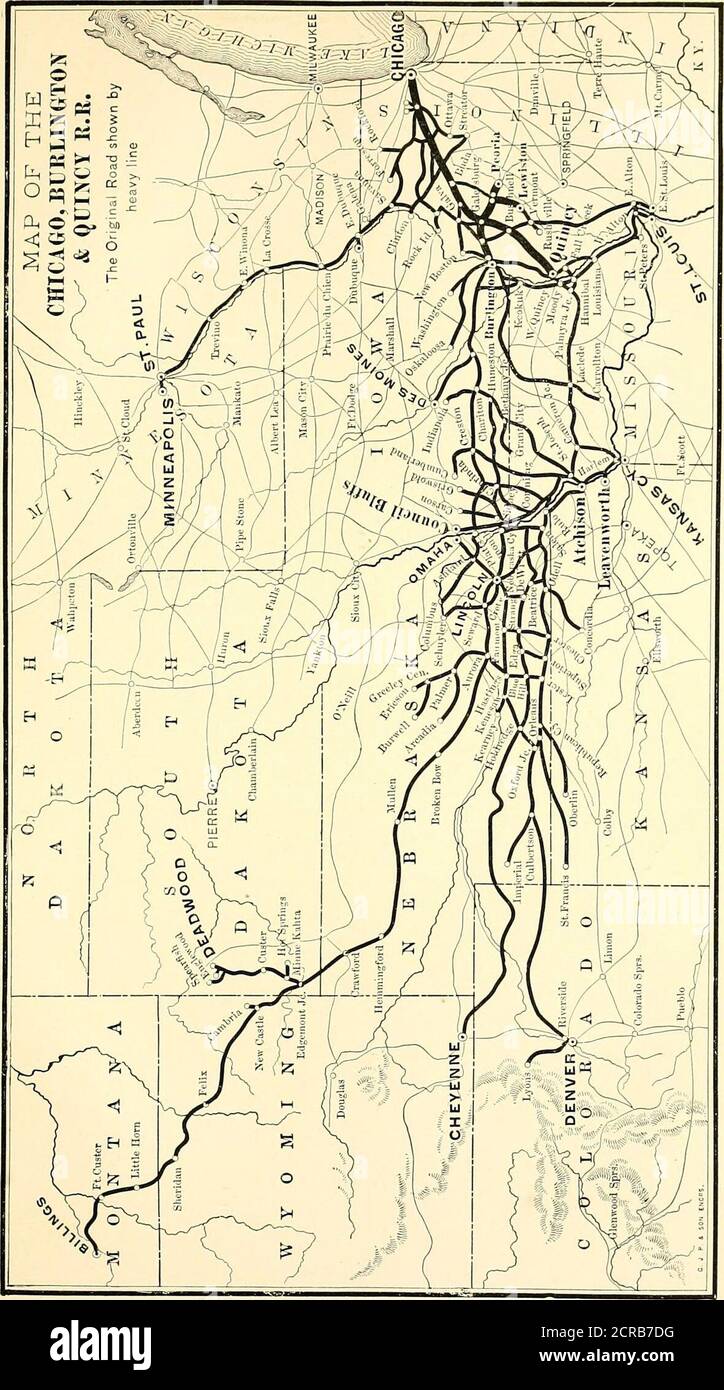 Image details
File size:
7.2 MB (485.9 KB Compressed download)
Dimensions:
1180 x 2118 px | 20 x 35.9 cm | 7.9 x 14.1 inches | 150dpi
More information:
This image could have imperfections as it's either historical or reportage.
. Letters and recollections of John Murray Forbes . The one was an engineer with the clearest possiblehead and an unending power of work, the other akeen, clever, energetic Western lawyer; and bothlabored as hard as even he wished, — or harder, which is saying a good deal. With such forces in its management, and thegreat prairies only waiting to be opened, to givefood and work to millions, the Chicago, Burlingtonand Quincy Company grew from a feeder of theMichigan Central of one hundred and fifty milesinto the great organization of to-day, having overseven thousand miles of railroad to operate, givingwork to a small army of employees, and among rail-roads having the name of so conservative a manage-ment as to be considered a safe investment forwomen and minors. There were, of course, periodsof depression, and fights with adverse state andUnited States restrictive legislation; but with itsable board of directors, and such men at their headas my father and the young cousin, now the presi-dent, who yearly developed more and more capacity. RAILROADS 213 for railroad affairs, and advanced by strides intothe confidence of my father and his colleagues, thisgreat machine has had a history of remarkable pro-sperity. My father could be a restraining agency aswell as a constructive one. In his notes he says: — It had become quite common for to come from the West with a plan for a hundred or twomiles of new road, which then meant about $30, 000of seven or eight per cent, bonds per mile ; and onone occasion when such a branch was about being au-thorized I related a story of my Naushon experience.We had been troubled with cats, which destroyedour birds, and so we put a bounty on killing themof so much for every cats tail brought in, whichamount proving insufficient we raised the price untilwe found, or thought we found, that they were rais-ing cats to bring in to sell to us. l Now, said I tothe directors, i I am convinced that the contractorsand speculators are building roads m