. De Benguella ás terras de Iácca; descripção de uma viagem na Africa central e occidental. Comprehendendo narrações, aventuras, e estudos importantes sobre as cabeceiras dos rios Cu-nene, Cu-bango, Lu-ando, Cu-anza e Cu-ango, e de grande parte do curso dos dois ultimos; alem da descoberta dos rios Hamba, Cauali, Sussa e Cu-gho, e larga noticia sobre as terras de Quiteca, N'bungo, Sosso, Futa, e Iácca. Scientific expeditions. 3l2 OBSERVAÃÃES NOVEMBRO J j3 "- â -: s> | 6" a. WaT 8hp. à 9°35' 17.57 945 583,3 - 83,3 '9.9 - - - - C. - - ENE. 3 > 9.35 17.57 945 5S2.3 58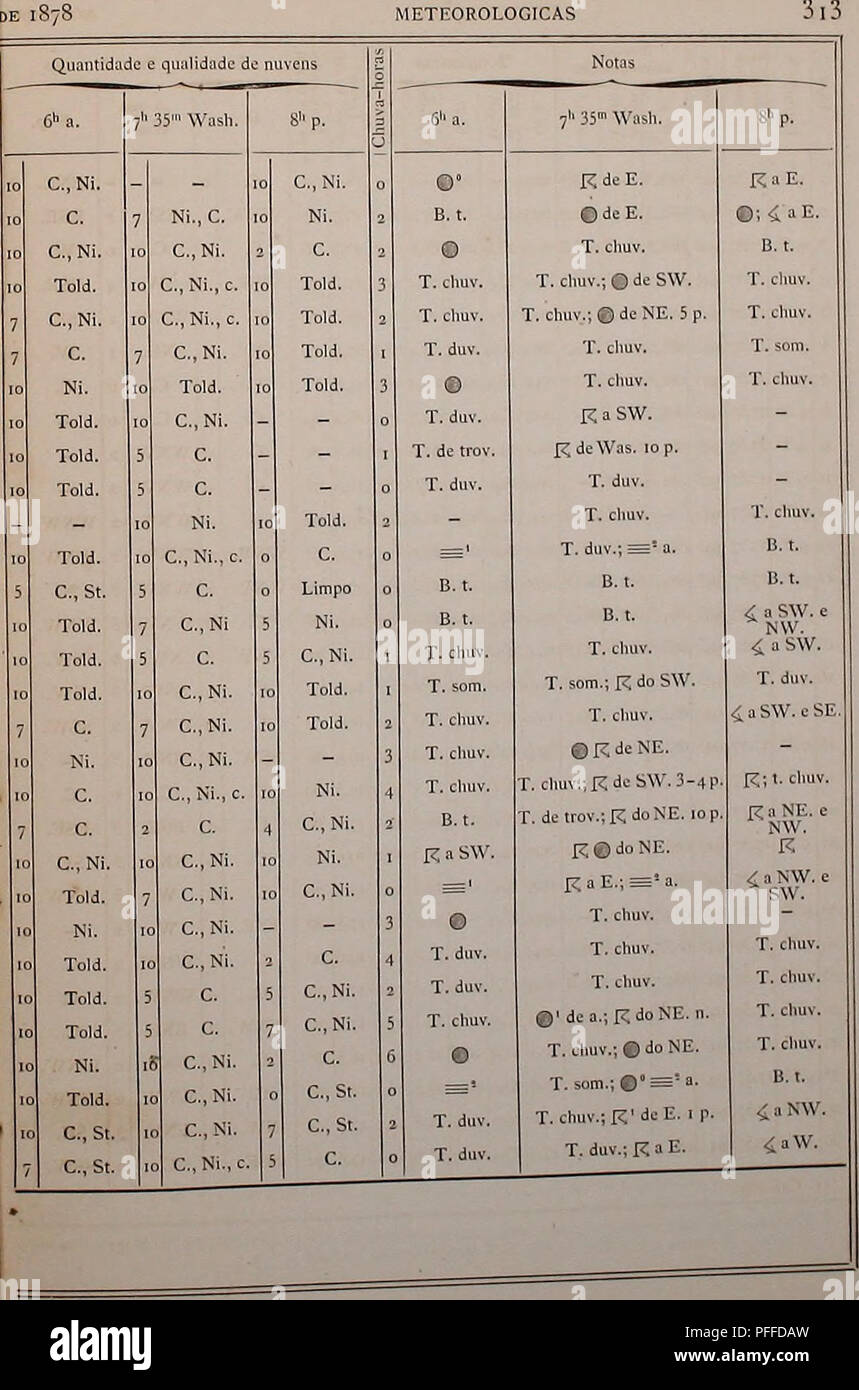 Image details
File size:
7.2 MB (331 KB Compressed download)
Dimensions:
1286 x 1944 px | 21.8 x 32.9 cm | 8.6 x 13 inches | 150dpi
More information:
This image is a public domain image, which means either that copyright has expired in the image or the copyright holder has waived their copyright. Alamy charges you a fee for access to the high resolution copy of the image.
This image could have imperfections as it's either historical or reportage.
. De Benguella ás terras de Iácca; descripção de uma viagem na Africa central e occidental. Comprehendendo narrações, aventuras, e estudos importantes sobre as cabeceiras dos rios Cu-nene, Cu-bango, Lu-ando, Cu-anza e Cu-ango, e de grande parte do curso dos dois ultimos; alem da descoberta dos rios Hamba, Cauali, Sussa e Cu-gho, e larga noticia sobre as terras de Quiteca, N'bungo, Sosso, Futa, e Iácca. Scientific expeditions. 3l2 OBSERVAÃÃES NOVEMBRO J ~ j3 "- â -: s> | 6" a. WaT 8hp. à 9°35' 17.57 945 583, 3 - 83, 3 _ '9.9 - - - - C. - - ENE. 3 > 9.35 17.57 945 5S2.3 58o, 6 82, 8 20, 9 25, 9 22, 4 27.4 19, 1 16, 7 67 WNW. â¢ESE. 2 ESE. 1 j 3 9.35 17.57 945 583, 3 682, 3 83, 3 20, 4 23, 4 21, 2 26, 0 19, 6 '7, 8 83 C. C. ° W. 1 , 9.35 17.57 VP 583, 8 68i, 3 83, 3 lU. | 23, 9 22, 4 25, 4 ig, i '7, 5 79 ESE. sw. 4 ESE. 1 1 5 9.35 17.57 945 583, 3 681, 8 82, 8 20, 9 25, 4 23, 4 26, 0 â 9, 6 i8, 5 76 C. WNW. 2 SE. 1 6 g.35 17.57 945 683, 6 68i, 3 82, 3 21, 4 26, 4 22, 4 26, 4 18, 8 '7, 9 69 NNE. NE. ' W. 2 7 9.35 .7.57 945 683, 8 683, 3 83, 8 19.9 23, 4 21, 4 26, 4 18, 6 17, 8 83 C. C. ° C. 0 8 9.35 17.57 945 683, 3 682, 3 - 19.7 =3, 9 - 24, 2 18, 1 18, 4 84 c. C. " - " 9 9.35 17.57 945 682, 3 68o, 3 - 21, 1 24.9 - 25, 6 19.à 18, 8 80 c. ) WNW. - " IO g.35 17.57 945 682, 8 680, 8 - 20, 9 24, 0 - 2Ã-/i 18, 7 16, 8 75 c. > WNW. - " n 9.35 .7.57 VP - 682, 3 582, 8 - 21, 4 '9.9 25, 0 '9, 3 19.0 100 - - WNW. » WNW. â " 9.35 .7.5/ 945 684, 0 682, 3 583, 3 '8, 4 24, 9 21, 9 25, 0 16, 6 17, 0 72 WNW. WNW. WNW. 1 [3 9.35 17.57 945 684, 3 , S-j, X 583, 8 '9.9 25, 4 22, 1 25, 5 '7.' '7.9 74 WNW. WNW. 3 N. â M 9.35 â 7-57 945 684, 3 681, 8 582, 8 20, 4 25, 7 23, 4 26, 2 18, 6 18, 0 73 C. d WNW. 3 WNW. 2 I 15 g.35 17.57 945 683, 8 681, 8 583, 3 '9.9 25, 1 22, 4 26, 5 , 9, , 19, 0 80 WNW. 2 NW. 2 NW. a ii", g.35 17.57 945 683, 3 683, 7 583, 3 '9.9 22, 9 '9.9 26, 0 19, 1 19, 0 9' c. 0 SSW. 3 NW. 2 '7 9.35 17.37 945 684, 7 5S3, 7 19.9 25, 7 23, 4 25, S 19, 1 18, 0 73 c. 0 WNW. SSW. â â 8 g.35 17.57 945 683, 7