. [Balanço da Receita e Despeza do Imperio no Anno Financeiro de 1838-1839]. aes (rendimento)....... . Subsidio litterario MAU IA. 1 Alcances de Thesouáiros e Recebedores. 2 Alienação de Capellas vagas 10 4 Rens de defuntos c ausentes 5 Chancellaria de mão morta 9 Decima 2.a de mão morta urbana 1 ,608$000264$1822$000 7.317$358 9.489$17; 18.317$010 4.768$0! 7.3!1.3: II) Í07 LCTIVA DO MUNICIPIOtE PROVÍNCIAS 1808 A 1821. 1822 Á 1831. 1832 y. Vunhode 1839. 9.70^089 510 3.052^190 31.587^)33122.048,55839 6.990^)000 23.479,536596.385^00 2.500-5)000 -460^)075 37.080^)921 44.655^)8913.417^08022.162^033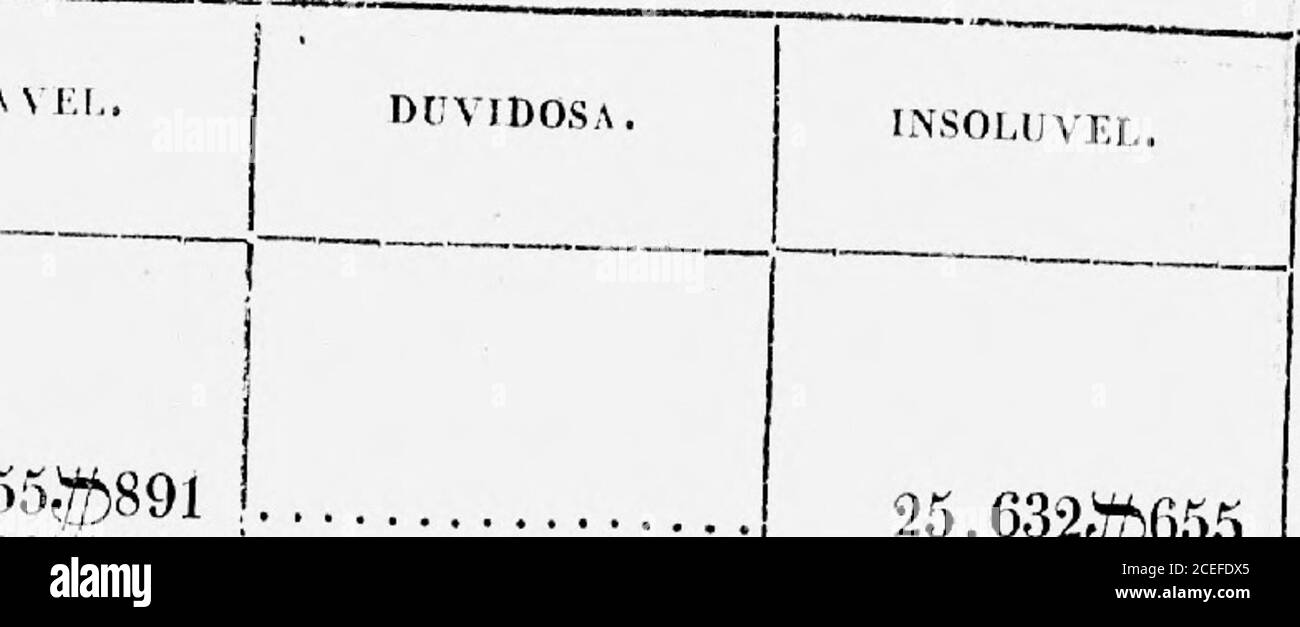 Image details
File size:
7.1 MB (123.6 KB Compressed download)
Dimensions:
2459 x 1016 px | 41.6 x 17.2 cm | 16.4 x 6.8 inches | 150dpi
More information:
This image is a public domain image, which means either that copyright has expired in the image or the copyright holder has waived their copyright. Alamy charges you a fee for access to the high resolution copy of the image.
This image could have imperfections as it's either historical or reportage.
. [Balanço da Receita e Despeza do Imperio no Anno Financeiro de 1838-1839]. aes (rendimento)....... . Subsidio litterario MAU IA. 1 Alcances de Thesouáiros e Recebedores. 2 Alienação de Capellas vagas 10 4 Rens de defuntos c ausentes 5 Chancellaria de mão morta 9 Decima 2.a de mão morta urbana 1 , 608$000264$1822$000 7.317$358 9.489$17; 18.317$010 4.768$0! 7.3!1.3: II) Í07 LCTIVA DO MUNICIPIOtE PROVÍNCIAS 1808 A 1821. 1822 Á 1831. 1832 y. Vunhode 1839. 9.70^089 510 3.052^190 31.587^)33122.048, 55839 6.990^)000 23.479, 536596.385^00 2.500-5)000 -460^)075 37.080^)921 44.655^)8913.417^08022.162^033321.654©! 70 24074^530 COBRA VEL, 1.897-536009.372, ^00000.430, 554001.860, 55000 á.829^iÓ5Ó3.588^)789 1.676^0001.800, 5520010.872^)8008.988^)000 16.339^)00017.423^810 186.470^306 774.847, ^)359 70.2S8-SS5463.417, 5508022.162, 575033353.241;S35043.052^)190366.923, 775374.03.084, 75540 1.897556009.372, 53000 60.436©40Òí. 860, 555000 23.479, 5556593.982.5553309.974, 5751892.918, 555100 1.676, 5550001.800, 555)20010.872-555)8008.988, 5550009.656.55506816.339, 55500017.892^885. 44.655, 555)891J .000, 75500021.000^000250.000, 7^000 .003.315, 755098 50.000^0002.800^000 500^)000 3.200, 555000 29.127^5200 3.982, 7553302.000, 7550002.918, 55100 500550001.800, 7f)200 10.872, 7558003.000-5^0007.150530683.000^000 17.892, 553885 1.000550001.0005500050.000530003.0525519040.0005300048.032-53898 250, 5530002.000, 55000 5.000, 5^000 23.479, 5536597.300530OO 25053000 2.000530002.000, 53000 455.406, 55074 185.304-53747 60, 53000 144, 77^00062.564, 75554070, 55300055, 532944.080, 53050 2.882, 533885.450-57555113.35053938605300049, 5348040.06053554 144, 5500062.564, 5554070, 5500()55532944.080, 7^6503.784, 775961 66.974, 553484 132.559 53356 27.375^)5281.33053160 ■.!»■. , 4.74053227 721, 53348 14.745, 53619 02.810, 53880 1.554^)56028 «405372064 .416-55994 3455V143 159, 553180 i3.1525326518, 55607 !407-53200> 1, 7^00038530851.129, 53036232.7^0001.608-55000264-551822530OO 2.882, 533885.4505355113.350.75>9386053000495548040.000, 7