Archive image from page 46 of Die Natur (1852). Die Natur dienatur19uleo Year: 1852 37 bic d'lfte ie€ 9?atrcnS bereit« an ?fRil*faure gebunben ift. 3n ariä octirenbct man tag SSicarbcnat unter bcm Flamen Conservateur du lail unb Ic'ft 95 ramme ba; von in 905 rammen SBaiJer, rcocon ein ecilitre auf 20 gitre 2y?il* üoUfcmmen aureichcnb ift. 6in ebcnfc hd'uftj aniiercenbeteä l9?ittel, bie CWilch haltbarer ju machen, beftebt in bem 'Jtuffcchfn ber Mi[<h. £lucpenne hat beobachtet, ba§ folchc 5J?ilch weit fchrces rer mit Sab wm erinnen ju bringen ift. Zic ßcnfcrpirung ber SRilch für längere 3ei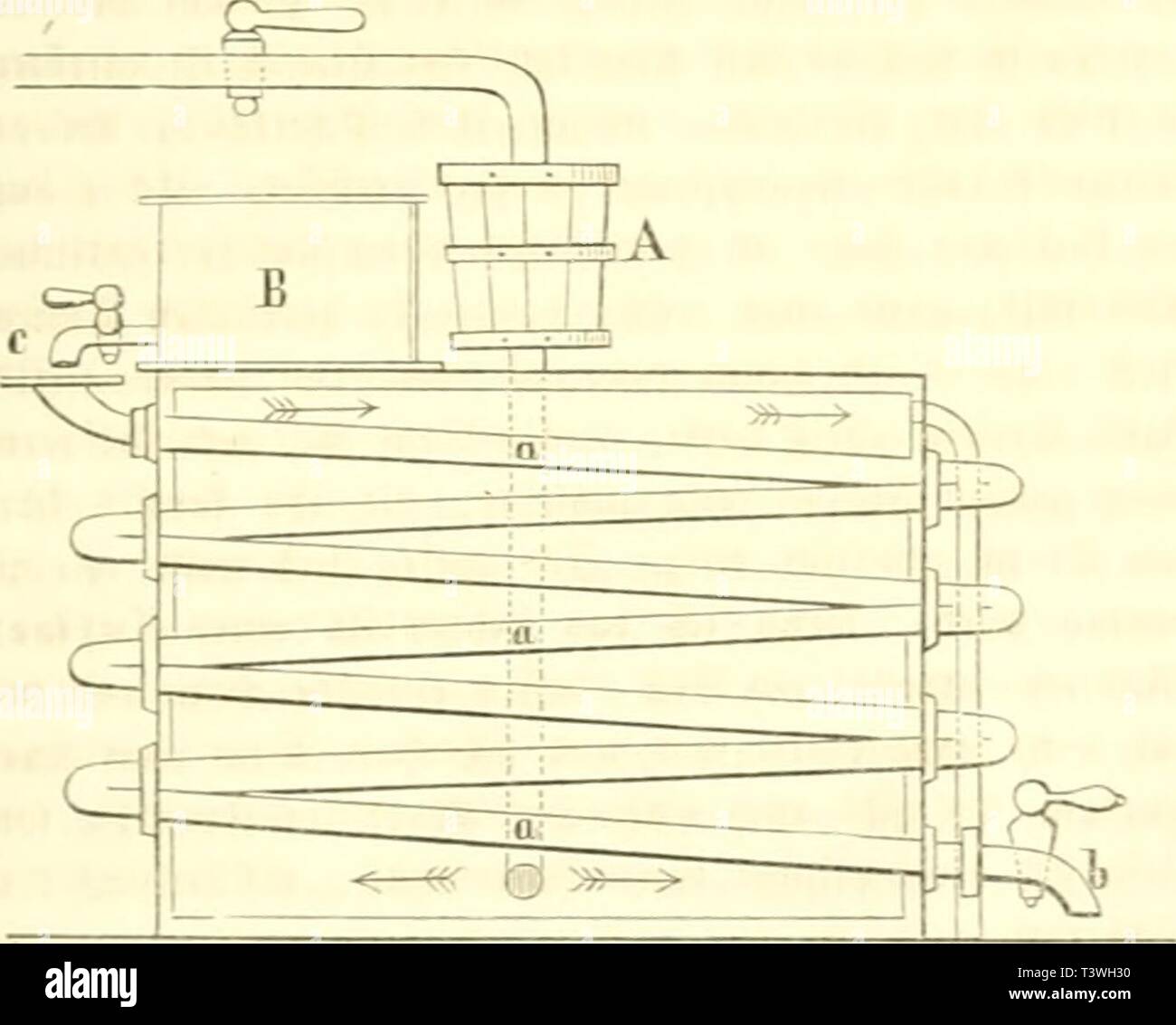 Image details
Contributor:
Bookend
 / Alamy Stock Photo
File size:
5.7 MB (134.2 KB Compressed download)
Dimensions:
1579 x 1267 px | 26.7 x 21.5 cm | 10.5 x 8.4 inches | 150dpi
More information:
This image is a public domain image, which means either that copyright has expired in the image or the copyright holder has waived their copyright. Alamy charges you a fee for access to the high resolution copy of the image.
This image could have imperfections as it's either historical or reportage.
Archive image from page 46 of Die Natur (1852). Die Natur dienatur19uleo Year: 1852 37 bic d'lfte ie€ 9?atrcnS bereit« an ?fRil*faure gebunben ift. 3n ariä octirenbct man tag SSicarbcnat unter bcm Flamen Conservateur du lail unb Ic'ft 95 ramme ba; von in 905 rammen SBaiJer, rcocon ein ecilitre auf 20 gitre 2y?il* üoUfcmmen aureichcnb ift. 6in ebcnfc hd'uftj aniiercenbeteä l9?ittel, bie CWilch haltbarer ju machen, beftebt in bem 'Jtuffcchfn ber Mi[<h. £lucpenne hat beobachtet, ba§ folchc 5J?ilch weit fchrces rer mit Sab wm erinnen ju bringen ift. Zic ßcnfcrpirung ber SRilch für längere 3eit hielt man früher für ganj unmöglich, unb in ber 21iat rcur= ten aud) bei ben mannigfachiten 9Scrfud}en faft immer ungünftige Siefultate erhalten. 5'?ur ber aSollftdntigteit halber rcoUen mir einige ber früher benutcn SJJethcben furj berühren, inbem bi« iet fleh nur bag SSerfahren SRabru'g ali rcirflich brauci)bar ermiefen at. ®o()l bie erften 2tnfd'ngc in biefer 9Jid)tung rcaren ti, welche bie 9}iilch burd) (Entfernung beS 5BafferS in einen feftcn Äcrper öerwanteln, alfo ein fogcnannte6 SKilchpuloer geirinncn rcoUtcn. liütin abgefehen baoon, ba§ ein fclcheS rcbuft jufclge eine« gettgef)alteg leicht ranjig rcirb, gelingt cS nie, bic in bor ?Wild) enthaltenen Äörper miebcr in jene feine 23crtheilung ju bringen, baf eine emulficngartige glüffigfeit entftdnbe. :abei rcurbe gan; ber Umftanb au§cr cht gelaffen, baj eine fcld)c reftituirtc Wlü&i nichts pon bem 3Bol)l9ef(hmacfe ber na; türlidcn tiat. Sethel fuchte bic 2uft burch Äechcn ju entfernen, um ihre Stelle in ber 9Kitch burd) Ächlenfdure cinnet); men u laffen, ein SSerfahren, roaS unter Umftdnben ge; n!i§ gute 9cfultate geben fann. 25raconnct oerfuhr in ber 2itt, ba§ er geronnene dafein mittelft boppeltfof)lenfauren ÜJatrong in Söfung brad)tc, bann abbampfte unb ben SRücfjlanb allein ober mit iuän troc!nete. Sd)on einen Sd)ritt ndfjer rcaren rimonb unb ßalai«; fie brauten bie 9Jlil*