1980s Impeach American President Ronald Reagan political pinback button. During President Reagan's eight years in office there were efforts to impeac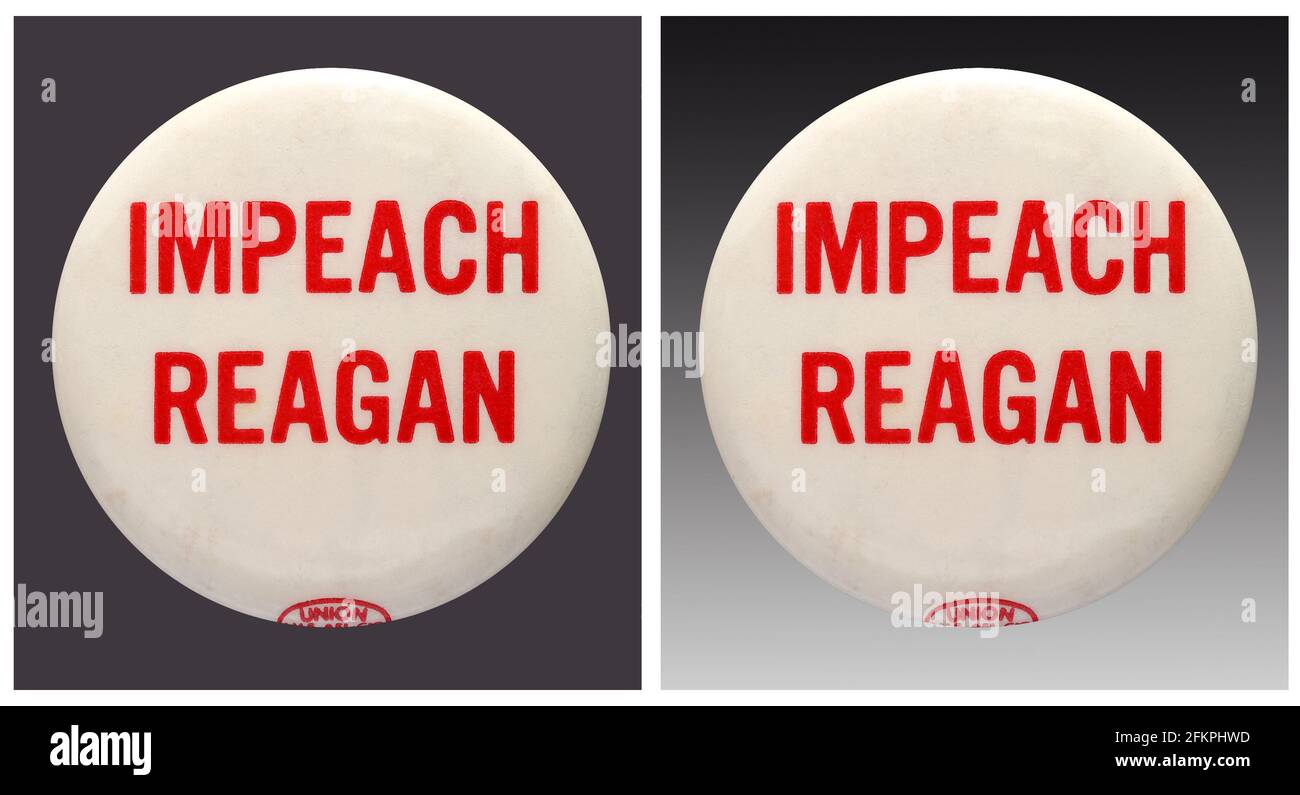 Image details
File size:
18.1 MB (400.7 KB Compressed download)
Dimensions:
3416 x 1854 px | 28.9 x 15.7 cm | 11.4 x 6.2 inches | 300dpi
More information:
1980s Impeach American President Ronald Reagan political pinback button. During President Reagan's eight years in office there were efforts to impeach Ronald Reagan, but none of those efforts were ever voted on by the US House of Representative. In 1983, Congressional Representatives proposed a resolution impeaching Reagan for the high crime or misdemeanor of ordering the invasion of Grenada in violation of the Constitution of the United States, and other high crime or misdemeanor ancillary thereto. 1985-1987 The Iran–Contra affair was a political scandal in the United States that occurred during the second term of the Reagan Administration. Senior administration officials secretly facilitated the sale of arms to the government of the Islamic Republic of Iran, which was the subject of an arms embargo. The administration hoped to use the proceeds of the arms sale to fund the Contras in Nicaragua. Under the Boland Amendment, further funding of the Contras by the US government had been prohibited by Congress. The affair was investigated by the U.S. Congress and by the three-person, Reagan-appointed Tower Commission. Neither investigation found evidence that President Reagan himself knew of the extent of the multiple programs. Additionally, United States Deputy Attorney General Lawrence Walsh was appointed Independent Counsel in December 1986 to investigate possible criminal actions by officials involved in the scheme. In the end, several dozen administration officials were indicted, including then-Secretary of Defense Caspar Weinberger. Eleven convictions resulted, some of which were vacated on appeal. The rest of those indicted or convicted were all pardoned in the final days of the presidency of George H. W. Bush, who had been Vice President at the time of the affair. Former Independent Council Walsh noted that in issuing the pardons, Bush appeared to have been preempting being implicated himself by evidence that came to light during the Weinberger trial.